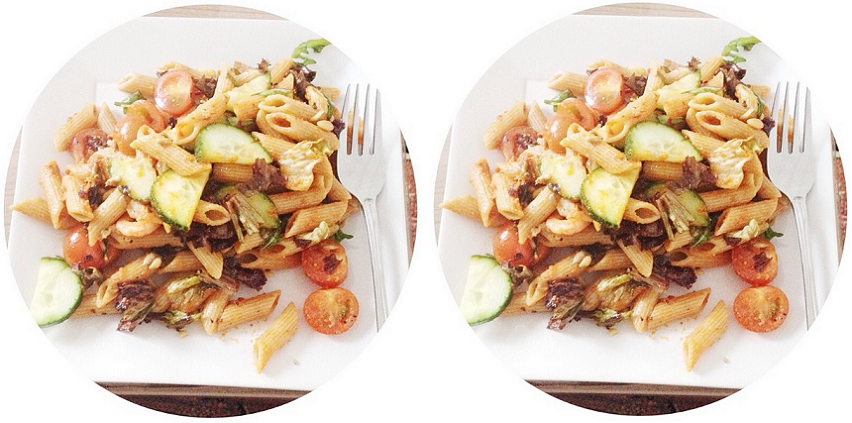 DUTCH: Als ik ergens dol op ben zijn het de twee P's: patat (heel verkeerd, I know!) en pasta. Niets is idealer dan pasta te eten in combinatie met een salade. Ik ben dol om zelfgemaakte salades te maken en ze moeten aan één ding voldoen: ze moeten mij vullen. Daarmee bedoel ik geen salade met simpelweg een slaatje of iets dergelijks. Ik maak vaak deze pastasalade.
Wat zit erin?
- 1 theebekertje volkeren en biologische penne.
Deze vind je in elk supermarkt bijna, zelfs in Aldi is het te vinden en die is nog lekker ook. Als je hem niet per se zo gezond wil hebben of je hebt niet te veel om uit te geven kan je ook goedkope penne kopen. Volkoren en biologische is iets duurder, maar zeker even lekker!
- 1/3 komkommer
- Rode pesto saus.
Ik vind die van Albert Heijn erg lekker (een verpakking met 2 pesto's erin).
- Jumbo garnalen
.
Ik bereid ze klaar met paprika poeder, teentje knoflook en natuurlijk peper en zout. Als je voor vegetarisch gaat kan je ze natuurlijk weg laten.
- Pijnboompitten of zonnepitten.
Dit zeker één van mijn favoriete zelfgemaakte pasta salade. Eens in de zoveel tijd maak ik het voor mijzelf of als we met vrienden samen komen. Als je mij lang volgt op Instagram heb je hem wellicht vaker voorbij zien komen. Deze salade is lekker en nog makkelijk te maken. Mijn andere favorite salades deel ik
hier
en
hier
. Wat is jouw favoriete pasta salade?
ENGLISH: This is my favorite pasta salad. What's yours?